Selore&S-Global USB C Docking Station: In today's fast-paced digital world, connectivity is key. Whether you're a professional working on multiple tasks simultaneously or a tech-savvy individual seeking a versatile solution, the Selore&S-Global USB C Docking Station is here to meet your connectivity needs. With a sleek design and an array of features, this docking station opens up a world of possibilities for your devices. In this article, we'll explore the key features and benefits of this remarkable product.
Unleash the Power of Multiple Monitors
One of the standout features of the Selore&S-Global USB C Docking Station is its ability to support up to three monitors simultaneously. This means you can expand your workspace and enjoy enhanced multitasking capabilities. Whether you're working on a complex project, gaming, or simply managing various applications at once, this docking station has you covered.
The docking station boasts dual HDMI ports with impressive 4K resolution capabilities. With one HDMI port offering a silky-smooth 60Hz refresh rate and the other providing a crisp 30Hz, you have the flexibility to choose the display setup that suits your needs. Additionally, a 4K@60Hz DisplayPort and a 1080P VGA display port further enhance your display options.
Rapid Charging with 100W PD
In today's fast-paced environment, waiting for your devices to charge can be a significant inconvenience. The Selore&S-Global USB C Docking Station comes equipped with a powerful 100W Power Delivery (PD) USB C port. This high-speed charging feature ensures that your laptop or device charges quickly and efficiently, saving you valuable time. However, it's important to note that your laptop's USB C port must support the power delivery protocol for this feature to function optimally.
Versatile USB C Hub
This USB C docking station isn't just about displays; it's a versatile hub designed to meet all your connectivity needs. In addition to the video outputs, the docking station features a USB C 2.0 port and two USB 2.0 ports. These ports allow you to connect a wide range of peripherals, such as keyboards, mice, USB flash drives, external hard disks, and more. With data transfer speeds of up to 480Mbps, you can seamlessly transfer files and access your peripherals without any hassle.
Broad Compatibility
Compatibility is a crucial factor when choosing a docking station. The Selore&S-Global USB C Docking Station is designed to work seamlessly with laptops and devices equipped with a full-featured USB Type-C port. This includes support for display, charging, and data transfer protocols. Compatible devices include MacBook Pro/Air, iPad Pro, Dell XPS 13/15/17, HP, Lenovo, Surface, Samsung, and more. This wide range of compatibility ensures that you can enjoy the benefits of this docking station regardless of your device.
Product Information
Brand: Selore&S-Global
Color: Gray+PD
Total USB Ports: 4
Item Dimensions (LxWxH): 4.5 x 2 x 0.62 inches
Number of Ports: 8
Item Weight: 90 Grams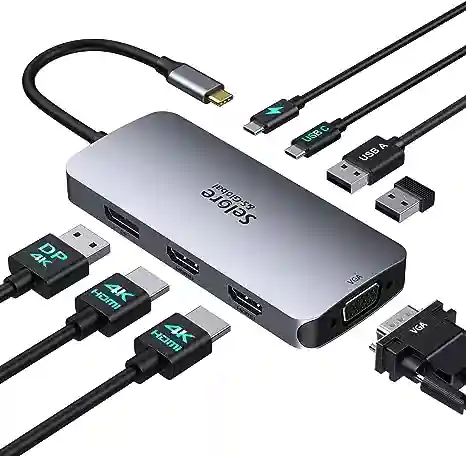 Warranty and Customer Service
Selore takes pride in the quality and reliability of their products. To provide peace of mind to customers, the Selore&S-Global USB C Docking Station comes with an 18-month warranty. Additionally, their dedicated customer service team is available 24/7 to assist with any inquiries or support you may require. Your satisfaction is their priority.
In conclusion, the Selore&S-Global USB C Docking Station is a valuable accessory for anyone looking to expand their connectivity options, connect multiple monitors, and charge their devices efficiently. Before purchasing, please ensure that your laptop's specifications support DP1.4 signal output for optimal resolution. With this docking station, you'll unlock new possibilities for productivity and convenience in your digital life. Don't miss out on this opportunity to enhance your connectivity – get your Selore&S-Global USB C Docking Station today!