In this guide check out how to fix 5G not working or not showing up error on Android phones.
Innovations in telecommunications don't stop. After 4G, there is a 5G network and currently, as we see mobile networks around the world have started rolling it out from 2019. The network penetration is slow and steady, as it's only available in major cities and towns around the world.
Widespread availability is expected by 2025. As such, 5G might not be available in most parts of the world. Here we have gone through a guide on how to fix 5G not working or 5G network not showing up on your phone. This guide will work on Verizon, AT&T, T-Mobile, TracFone, US Cellular, Cricket Wireless & all the network operators around the world like Telus, Fidos, Rogers, etc.
5G Not Working:
There are various reasons why 5G might not be available on your phone or tablet. We will not be discussing the reasons because we actually don't know where the problem is right now on your handset. Instead, I will show you how you can fix can't connect to 5G errors and problems.
5G Slow Network
Check Data Usage
Toggle Airplane Mode
Reboot Phone
SIM Issues
Data Limits
Network Coverage/Availability
5G APN Settings
Settings
Reset Phone
Slow
Customer Care
Icon
How to Fix 5G Verizon
AT&T
5G on 4G Phone
So let's fix it and get full 5G speed!
Check Data
The first and foremost step is to determine whether the alarm about 5G is correct or not. Through your know methods/means, check out the following –
5G data allocated as per your plan
Data consumed & Data left over
Most operators in the USA right now don't offer unlimited 5G data, so it might be possible that data is consumed too quickly. So by knowing data consumed & leftover data you can easily know how much data is left over for Internet access through 5G or it might be lowered as per your plan.
5G Supported Phone?
First and foremost, you should make sure that you have a 5G supported phone or not. There is your answer to the question. You can check your device box or search on Google or GSMArena for phone specs. It will be clearly mentioned in the 'network mode' section, along with frequency bands supported.
Toggle Airplane Mode On/OFF:
If your mobile data is giving you trouble, then Airplane mode might be helpful in this case. Turn Airplane Mode ON then OFF and then wait for 30 seconds. A path can be usually different depending on your phone manufacturer and Android version, but usually, all the OEM have included this widely used option from the notification panel.
Here is how to do it –
Settings > Wireless & Networks > Airplane Mode
In a lot of cases, 5G network connectivity issues will be gone.
5G Network Coverage & Availability
When 5G isn't showing up on your phone, it might mean that 5G towers are too far from your city or hometown or services aren't offered in your area. In such cases, you will have to determine whether there is 5G coverage in your area or not. You can check your provider's coverage map to know whether 5G is available in your city/area or not.
Reboot Your Phone:
Rebooting your device may solve many problems on your device. So, pressing the Power button and selecting Reboot is the first thing you should do on your smartphone.
Enable the Right Network Mode
When 5G isn't showing up, it's possible that your phone settings aren't set for optimal coverage. For a 5G phone, in order to receive 5G signals, you should make sure that 5G mode (auto) is selected. You can find these settings under –
⇒ Settings > Wireless & Networks > Mobile Network and now select your preferred options.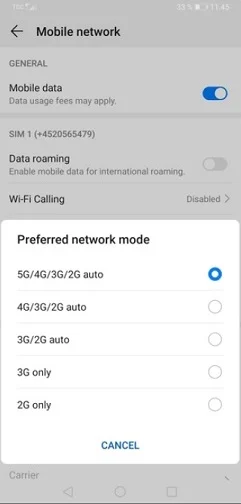 If you are sure that your device is 5G enabled and your carrier supports 5G, then set it as "5G/4G/3G/2G auto".
Do You Have Mobile Data Limit?
Android introduced mobile data limits a couple of years back. While this option is good, it has its own consequences. Through these settings, you can set data limits and warnings when data is about to reach limits.
You can find these settings under Settings > Mobile data/Data Usage. Here you will have to untick the "Limit mobile data usage" box.
Re-Insert SIM Card
5G is nothing but your mobile data and for the Internet through mobile issues may be fixed easily by re-inserting the SIM card. While removing and re-inserting the SIM, please make sure that you have turned OFF your device completely.
Around 70% of the problems are easily fixed by the above-mentioned three methods. For you, if it's still not fixed, then you can try out more troubleshooting steps mentioned below.
Edit APN Settings
Ok, you have tried all the steps mentioned above regarding no 5G coverage in my area. It's time to act smart and try out a few more solutions.
Perhaps you are not seeing the 5G signal might be due to the wrong APN settings. Access Point Names (APNs) are the communication bridge through which mobile network providers connect your phone to the mobile internet. It includes settings of gateway and IP address.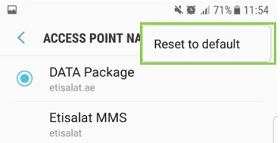 Follow these steps to enter APN Settings manually –
Go to Settings.
Now tap on Network & Internet or Mobile Network.
Now tap on Advanced > Access Point Name.
Now edit these settings.
We have already gone through a few guides on how to modify APN Setting on Verizon, Sprint, TracFone APN, and other networks.
It's always recommended to follow your network provider instructions on the 5G APN settings.
Reset Your Phone's Network Settings
If all the above doesn't work, then it's time to reset the network settings on your phone. Remember that Reset Network Settings is different from Resetting Phone, which will actually reset your device completely.
Android: Settings > General management > Reset > Reset Network Settings
iPhone: Settings> General > Reset > Reset network settings