Here we have gone through Verizon APN Settings for 5G mobile phones including iPhone & Android (+APN reset guide). Verizon Wireless is the leading telecom operator in the USA. It provides 90% coverage in most parts of America, and recently they introduced a 5G network whose coverage is expanding. The trials of 6G Verizon have begun, but it's far from reality until 2028.
If your location has a 5G coverage and if you are not able to access mobile data on your device, then there are many to fix the issue by yourself. One of the easiest methods is to check the Verizon APN settings.
What is Verizon Wireless VZW APN?
VZW stands for and APN stands for Access Point Names. These are the settings through which your mobile phone connects to the Internet via your network provider intermediatory.
Verizon 5G APN
The basic and first step involved in troubleshooting is to change APN Settings on a Verizon phone. Mentioned here are the APN settings which you need to apply in order if you have a problem accessing 4G or 5G network or the Internet.
| | |
| --- | --- |
| Name | VZW |
| APN | VZWINTERNET |
| Proxy | blank |
| Username | blank |
| Password | blank |
| Server | blank |
| MMSC | http://mms.vtext.com/servlets/mms |
| MMS Proxy | <Not set> |
| MMS Port | 80 |
| MMC | 311 |
| MNC | 480 |
| Authentication type | not set |
| APN Type | internet + mms |
| APN Protocol | IPv4/IPv6 |
| APN roaming protocol | IPv4 |
| Bearer | Unspecified |
| APN enable/disable | blank |

Here are the alternate APN Settings for Verizon mobile phones –
Details
Access Point Name (APN)
vzwinternet
Username
Password
Verizon APN Settings 2023:
On an Android mobile phone, you can change Verizon Access Points with the following steps –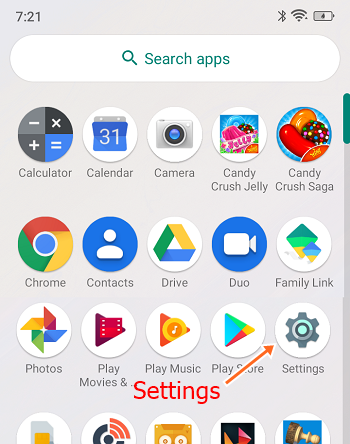 Now select Wireless & Network > Mobile Networks > Access Point Names.
Now tap on three dots ≡ and select New APN.
Enter the values mentioned above in the required fields.
Save the Settings.
If possible, then restart your phone.
That's it done! Restart your phone if required or doesn't work.
Verizon APN Settings iPhone
For iPhone, here are the Verizon APN values that you need to enter –
Go Settings > Cellular Data > Cellular Data Options > Cellular Data Network.
Tap on Add APN and enter the value as vzwinternet
Leave the Username and Password blank.
Done.
Restart your iPhone and check whether this works or not.
Reset Verizon APN Settings on iPhone
You can easily reset settings by the following process –
Go to Settings.
Now tap on Cellular > Cellular Data Network.
Finally, tap on Reset Settings.
It will be done!
Samsung APN Settings:
You can even modify the Verizon Samsung phone's APN settings too. The process is the same as that of any Android phone.
Verizon MMS Settings
Go to text messages > Settings > Text Messages > MMS > Advanced and enter the following details Access Point Name (APN) = vzwinternet Username = (Leave in Blank) Password = (Leave in Blank)
Verizon APN Settings not Working:
Recently, the big red carrier has turned off the APN options for users on many models. The VZW APN is greyed or not available. You can get back this option by rooting your device, but you should understand it because it's for advanced.
Further, you can contact the Verizon Customer service helpline for any help in this case.
Also it has come to our notice that many people are trying to get into the online portal which says 'unlimited data apn settings hack'. Those tricks are good on paper, but have many things to do back door. It may steal many things from you and your security might be at risk.
Verizon 5G Not Working
Many users have said 5G doesn't work on Verizon even though they have a 5G handset. Now, this problem is related to network connectivity and this is not a problem with your smartphone.
We have gone through a comprehensive guide on how to fix 5G not working issues on Apple iPhone and Android.
Verizon Mobile Data Slow:
If you are complaining that you see slow mobile data on your Verizon handset, it may be due to many reasons. You can check out the reasons why mobile data is slow on phone.
⇒ iWireless APN Settings
⇒ BLU APN Settings Reset
So that's the Verizon APN settings for Android and Apple iPhones or any digital writing tablet with a SIM card slot.