Check out how to change TracFone APN Settings for iPhone, AT&T, Samsung, & other networks/mobile phones. APN or Access Point Names are required so that your mobile phone can connect to the web or Internet on your data. So without its proper connection/Settings on your Tracfone mobile phone, you won't be able to connect to the Internet or send multimedia messages. So what you need to do, get the right APN for TFW.
TracFone APN Settings
There are several ways in which you can get APN Settings on your TracFone mobile phone. Here are they –
TracFone mobile APN settings via SMS
TracFone has done its best in this regard. You can easily APN Settings instructions by sending the following SMS –
APN to 611611
Once you send that SMS from your mobile number you will get APN Settings, you just need to click on Install and it will automatically get installed.
That's one of the easiest methods available right now. Just send an SMS and you are done.
Now let's head to the second method here.
TracFone APN Settings via their Portal
Also, you can Enter your Phone Number or IMEI/ESN, or the Last 15 digits of your BYOP SIM here to get those Settings. Follow here.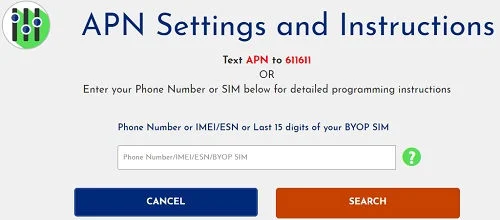 APN Settings for TracFone:
Here are the APN settings for Tracfone mobile phones –
Name: Tracfone
APN: att.mvno
Username: Not required
Password: Not required
MMSC: http://mmsc.cingular.com
MMS proxy: proxy.mvno.tracfone.com
MMS port: 80
MCC:
MNC:
APN Type: default,dun,stdhipri,supl
So those are the settings that you need to enter manually.
Note: If you have followed Method 1, or Method 2, you need not enter these values manually.
TracFone APN Settings for iPhone:
If you have an iPhone or iPad on TracFone, then follow the process mentioned below to edit APN Settings –
Go to Settings.
Tap on General.
Select Network.
Now select Mobile Data.
Now create a new APN.
Enter the values as mentioned above.
So that was iPhone Tracfone settings. Easy to edit and can be modified at any point in time.
TracFone APN Settings for Android:
For any other smartphones including flip phones & other than iOS (ofcourse we mean Android), follow this process –
Go to Settings.
Now tap on More.
Now tap on Mobile Networks.
Now enter into Access Point Names.
Enter the values mentioned above.
Now Save the Settings or go back.
This will work on TracFone's new Samsung mobiles, Motorola, LG, and other phones. You can modify it at any point in time on your Android 13 or older mobile too.
MMS Data:
TracFone APN Settings Not Working:
For errors and problems in APN Settings, there are different cases here based on different types. If you get an error while accessing the Internet or sending MMS or something similar, then it's clear that APN Settings for Tracfoneare not working properly, and you have to modify it
If there is an option to Reset Network Settings on your mobile phone, you can do it. I have this option on my BLU G9 smartphone. This option will also reset APN Settings to factory default.
So those were the TracFone APN Settings. I hope the APN settings on the Tracfone issue are now solved on your phone. If you have any more questions, then please check out the TracFone FAQs section.